Congratulations 2016 Brain, Big Data, and Computation Seed Grant Awardees!
PRED+CT: A Patient Repository of EEG Data and Computational Tool
Principal Investigator: Dr. James F. Cavanagh, Psychology 
Co-Principal Investigator: Dr. Abdullah Mueen, Computer Science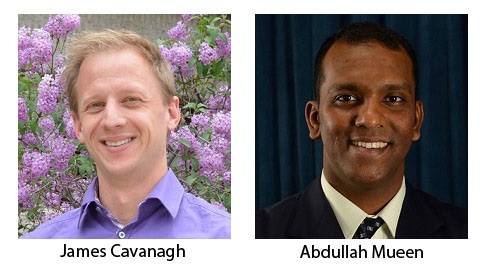 Amount Awarded: $19,444 (direct costs)
Period of Performance: 6/15/16 – 6/14/17
Goals and Aims of Study: There is a critical need to standardize and quantify the diagnostic criteria for neurological disorders. Our long term goal is to develop and maintain a site that leverages the power of collective action to address this need using electroencephalography (EEG). In this proposal we aim to fill this gap with a one-stop open-source site for gathering, storing, and analyzing clinically relevant data. This funding award will allow us to develop the Patient Repository of EEG Data and Computational Tools (PRED+CT). 
How this Research Will Benefit Society:The PRED+CT database will not only be the first open-source EEG database for patient data, but it will also work to standardize assessment and analytic tools. The ultimate goal of this project is to host a multitude of available tasks and patient group repositories, facilitating big-data analysis. Successful completion of this aim will lead to development of novel EEG biomarkers with enhanced predictive power above and beyond behavioral assessments for differentiating populations of neurological disorders from healthy control and across disorders.
Correlating Changes in the Oral Microbiome to Neurological Patterns Associated with Alcoholism
Principal Investigator: Dr. Salvador Portillo, Electrical Computer Engineering (ECE)
Co-Principal Investigators: Drs. Amanda Carroll-Portillo, ECE; Vince Calhoun, The Mind Research Network

Amount Awarded: $20,000 (direct costs)
Period of Performance: 6/15/16 – 6/14/17
Synopsis: Our team, made up of Drs. Vince Calhoun, Amanda Carroll Portillo, Jon Houck and Sal Portillo, has been working to understand the possible shifts in oral bacteria, brain activity and genetic traits of individuals with an increased degree of alcoholism.  Within the selected patient populations, there are three aspects that will be examined: (1) brain activity, (2) genetic traits, and (3) types and quantity of oral bacteria.  Dr. Salvador Portillo, Dr. Amanda Carroll-Portillo, and two undergraduate Science and Engineering students will be conducting bioinformatics analysis from dna sequencing data in order to highlight shifts in the numbers and types of bacteria; that may correlate the potential role these bacteria have in driving the cravings associated with the disease.  Dr. Jon Houck is performing analysis of genetic traits looking for possible changes within the studied group.  Dr. Vince Calhoun is studying MRI scans to determine patterns in brain activity associated with an increased alcoholism group.  The results of the three investigations will be compared to find any correlations between the types of bacteria in the mouth, specific genetic traits, patterns in brain activity and the severity of alcoholism.